The Cavitation Number or Cavitation Parameter is a dimensionless number. It characterizes how close the pressure in the liquid flow is to the vapor pressure. Thermal Engineering
Cavitation in Centrifugal Pumps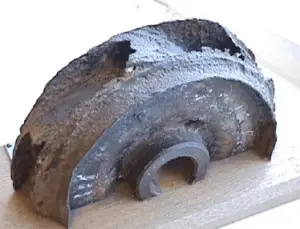 Major places where cavitation occurs are in pumps, on impellers or propellers. In centrifugal pumps, cavitation results from a reduction in suction pressure, an increase in suction temperature, or an increase in the flow rate above that for which the pump has been designed.
Cavitation Number
The Cavitation Number (Ca) or Cavitation Parameter is a dimensionless number used in flow calculations. It is conventional to characterize how close the pressure in the liquid flow is to the vapor pressure (and therefore the potential for cavitation) by means of the cavitation number.
The Cavitation Number can be expressed as:
where
CA  = Cavitation Number
p  = local pressure (Pa)
pv = vapor pressure of the fluid (Pa)
ρ  = density of the fluid (kg/m3)
v  = velocity of fluid (m/s)
We hope, this article, Cavitation Number, helps you. If so, give us a like in the sidebar. Main purpose of this website is to help the public to learn some interesting and important information about thermal engineering.