System head is major head loss of hydraulic system. The system head loss must be directly proportional to the square of the volumetric flow rate. Thermal Engineering
System Head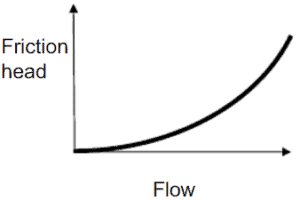 In the chapter on head loss, it was determined that both major losses and minor losses in piping systems are proportional to the square of the flow velocity. It is obvious the system head loss must be directly proportional to the square of the volumetric flow rate, because the volumetric flow rate is directly proportional to the flow velocity.
It must be added that the open hydraulic systems contains not only the friction head, but also the elevation head, which must be considered. The elevation head (static head) represents the potential energy of a fluid due to its elevation above a reference level.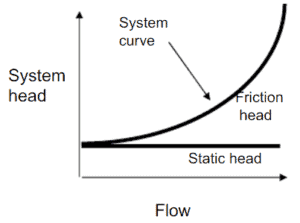 In many cases the total head of a system is a combination of elevation head and friction head as shown in the figure.
In nuclear engineering most of hydraulic systems are closed hydraulic loops and these systems only have friction head (no static head).
We hope, this article, System Head, helps you. If so, give us a like in the sidebar. Main purpose of this website is to help the public to learn some interesting and important information about thermal engineering.