The thermal diffusivity appears in the transient heat conduction analysis and in the heat equation. Thermal diffusivity represents how fast heat diffuses through a material and has units m2/s. Thermal Engineering
Thermal Diffusivity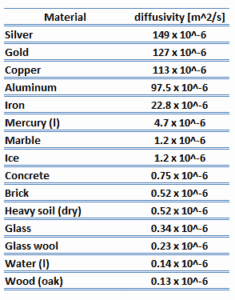 In heat transfer analysis, the ratio of the thermal conductivity to the specific heat capacity at constant pressure is an important property termed the thermal diffusivity. The thermal diffusivity appears in the transient heat conduction analysis and in the heat equation.
It represents how fast heat diffuses through a material and has units m2/s. In other words, it is the measure of thermal inertia of given material. Thermal diffusivity is usually denoted α and is given by:
As can be seen it measures the ability of a material to conduct thermal energy (represented by factor k) relative to its ability to store thermal energy (represented by factor ρ.cp). Materials of large α will respond quickly to changes in their thermal environment, whereas materials of small α will respond more slowly (heat is mostly absorbed), taking longer to reach a new equilibrium condition.
We hope, this article, Thermal Diffusivity, helps you. If so, give us a like in the sidebar. Main purpose of this website is to help the public to learn some interesting and important information about thermal engineering.