Units of Thermal Conductivity. In SI units, thermal conductivity is measured in watts per meter-kelvin – W/(m·K). In Imperial units, thermal conductivity is measured in BTU/(hr·ft⋅°F). Thermal Engineering
Units of Thermal Conductivity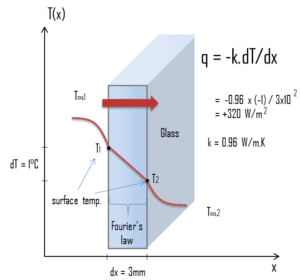 Units of Thermal Conductivity
In SI units, thermal conductivity is measured in watts per meter-kelvin – W/(m·K). In Imperial units, thermal conductivity is measured in BTU/(hr·ft⋅°F).
Note that, British Thermal Unit (unit: BTU) is defined to be the amount of heat that must be absorbed by a 1 one pound of water to raise its temperature by 1 °F at the temperature that water has its greatest density (approximately 39 degrees Fahrenheit).
Other units which are closely related to the thermal conductivity are in common use in the construction and textile industries. The construction industry makes use of units such as the R-value (resistance), which is expressed as the thickness of the material normalized to the thermal conductivity, and under uniform conditions it is the ratio of the temperature difference across an insulator and the heat flux density through it: R(x) = ∆T/q. The higher the R-value, the more a material prevents heat transfer. As can be seen, the resistance is dependent on the thickness of the product.
We hope, this article, Unit of Thermal Conductivity, helps you. If so, give us a like in the sidebar. Main purpose of this website is to help the public to learn some interesting and important information about thermal engineering.