The power conversion system of typical PWR begins in the steam generators (boiler) in their shell sides. Thermal Engineering
From Boiler to Main Steam Lines – Evaporation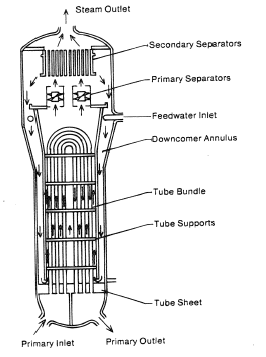 The power conversion system of typical PWR begins in the steam generators (boiler) in their shell sides. Steam generators are heat exchangers used to convert feedwater into steam from heat produced in a nuclear reactor core. The feedwater (secondary circuit) is heated from ~230°C 500°F (preheated fluid by regenerators) to the boiling point of that fluid (280°C; 536°F; 6,5MPa). Heat is transferred through the walls of these tubes to the lower pressure secondary coolant located on the secondary side of the exchanger where the coolant evaporates to pressurized steam (saturated steam 280°C; 536°F; 6,5 MPa). The saturated steam leaves the steam generator through a steam outlet and continues to the main steam lines and further to the steam turbine.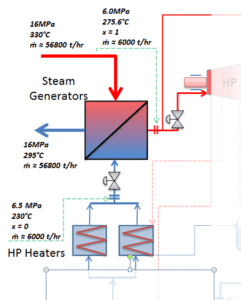 These main steam lines are cross-tied (e.g. via steam collector pipe) near the turbine to ensure that the pressure difference between any of the steam generators does not exceed specific value thus maintaining system balance and ensuring uniform heat removal from the Reactor Coolant System (RCS). The steam flows through the main steam line isolation valves (MSIVs), which are very important from safety point of view, to the high pressure turbine. Directly at the inlet of the steam turbine, there are throttle-stop valves and control valves. Turbine control is achieved by varying these turbine valves openings. In the event of a turbine trip, the steam supply must be isolated very quickly, usually in the fraction of a second, so the stop valves must operate quickly and reliably.
We hope, this article, From Boiler to Main Steam Lines – Evaporation, helps you. If so, give us a like in the sidebar. Main purpose of this website is to help the public to learn some interesting and important information about thermal engineering.