Pinch point is the location in heat exchanger where the temperature difference between hot and cold fluid is minimum at that location. Pinch Point – Heat Exchanger
Pinch Point – Heat Exchanger
There is another interesting aspect to the design in that the temperature difference known as 'pinch' can limit the performance of heat exchangers if the areas and flow rates are not properly designed. Pinch point is the location in heat exchanger where the temperature difference between hot and cold fluid is minimum at that location.
LMTD – Condensers and Boilers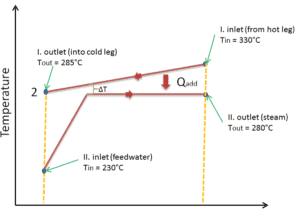 Steam generators and condensers are also examples of components found in nuclear facilities where the concept of LMTD is needed to address certain problems. When the subcooled water enters the steam generator, it must be heated up to its boiling point and then it must be evaporated. Because evaporation is taking place at constant temperature, it cannot be used a single LMTD. In this case the heat exchanger has to be treated as a combination of two or three (when superheat occurs) heat exchangers.
We hope, this article, Pinch Point – Heat Exchanger, helps you. If so, give us a like in the sidebar. Main purpose of this website is to help the public to learn some interesting and important information about thermal engineering.