Pressure in the pressurized water reactor is maintained by a pressurizer, a separate vessel that is connected to the primary circuit and partially filled with water at saturation parameters. Thermal Engineering
Pressure in Pressurized Water Reactor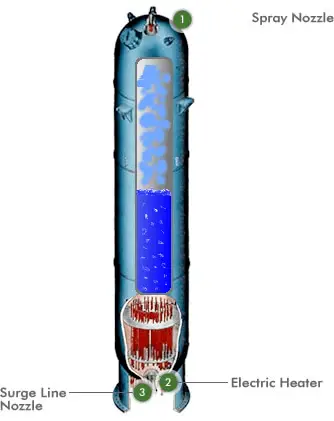 Pressurized water reactors use a reactor pressure vessel (RPV) to contain the nuclear fuel, moderator, control rods and coolant. They are cooled and moderated by high-pressure liquid water (e.g. 16MPa). At this pressure water boils at approximately 350°C (662°F).  This high pressure is maintained by pressurizer. Inlet temperature of the water is about 290°C (554°F). The water (coolant) is heated in the reactor core to approximately 325°C (617°F) as the water flows through the core. As it can be seen, the reactor has approximately 25°C subcooled coolant (distance from the saturation).
A pressurizer is a component of a pressurized water reactor. Pressure in the primary circuit of PWRs is maintained by a pressurizer, a separate vessel that is connected to the primary circuit (hot leg) and partially filled with water which is heated to the saturation temperature (boiling point) for the desired pressure by submerged electrical heaters.
On the other hand there are spray lines to decrease pressure inside the pressurizer, which in turn causes decrease in pressure in reactor coolant system. These spray lines sprays reactor coolant from the cold leg of a loop into the steam space and condenses a portion of the steam. The quenching action reduces pressure and limits the pressure increases.
We hope, this article, Pressure in Pressurized Water Reactor, helps you. If so, give us a like in the sidebar. Main purpose of this website is to help the public to learn some interesting and important information about thermal engineering.