Volume formula for cube: V = a3. Volume of a cube is equal to side times side times side. Since each side of a square is the same, it can simply be the length of one side cubed. Thermal Engineering
What is Volume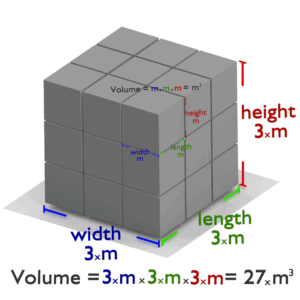 Volume is a basic physical quantity. Volume is a derived quantity and it expresses the three dimensional extent of an object. Volume is often quantified numerically using the SI derived unit, the cubic metre. For example, the volume inside a sphere (that is the volume of a ball) is derived to be V = 4/3πr3, where r is the radius of the sphere. As another example, volume of a cube is equal to side times side times side. Since each side of a square is the same, it can simply be the length of one side cubed.
If a square has one side of 3 metres, the volume would be 3 metres times 3 metres times 3 metres, or 27 cubic metres.
We hope, this article, Formula for Volume of Cube, helps you. If so, give us a like in the sidebar. Main purpose of this website is to help the public to learn some interesting and important information about thermal engineering.