Thermal efficiency formula represents the fraction of heat, QH, that is converted to work. Thermal efficiency equation is often expressed in terms of the temperatures or enthalpies. Thermal Engineering
Thermal Efficiency Formula

As a result of this statement, we define the thermal efficiency, ηth, of any heat engine as the ratio of the work it does, W, to the heat input at the high temperature, QH. The thermal efficiency formula is then:
The thermal efficiency, ηth, represents the fraction of heat, QH, that is converted to work. It  is a dimensionless performance measure of a heat engine that uses thermal energy, such as a steam turbine, an internal combustion engine, or a refrigerator. For a refrigeration or heat pumps, thermal efficiency indicates the extent to which the energy added by work is converted to net heat output. Since it is dimensionless number, we must always express W, QH, and QC in the same units.
Since energy is conserved according to the first law of thermodynamics and energy cannot be be converted to work completely, the heat input, QH, must equal the work done, W, plus the heat that must be dissipated as waste heat QC into the environment. Therefore we can rewrite the formula for thermal efficiency as:

To give the efficiency as a percent, we multiply the previous formula by 100. Note that, ηth could be 100% only if the waste heat QC will be zero.
In general, the efficiency of even the best heat engines is quite low. In short, it is very difficult to convert thermal energy to mechanical energy. The thermal efficiencies are usually below 50% and often far below. Be careful when you compare it with efficiencies of wind or hydro power (wind turbines are not heat engines), there is no energy conversion between the thermal and mechanical energy.
Formula for Brayton Cycle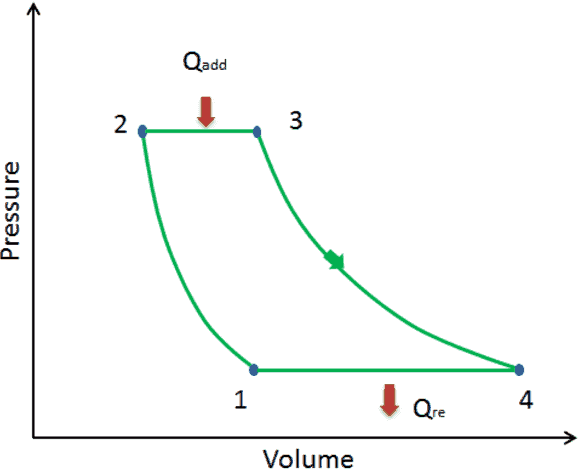 The thermal efficiency of simple Brayton cycle, for ideal gas and in terms of specific enthalpies can be expressed in terms of the temperatures:
Thermal Efficiency of Rankine Cycle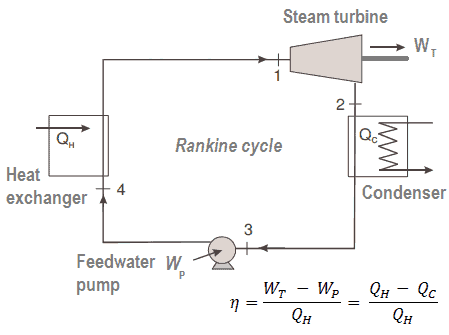 The thermal efficiency of simple Rankine cycle and in terms of specific enthalpies is:
It is very simple equation and for determination of the thermal efficiency you can use data from steam tables.
We hope, this article, Thermal Efficiency Formula, helps you. If so, give us a like in the sidebar. Main purpose of this website is to help the public to learn some interesting and important information about thermal engineering.