Example of Isochoric Process – Isochoric Heat Addition. Let assume the Otto Cycle, processes 2 → 3 and 4 → 1 are isochoric processes. Thermal Engineering
Isochoric Process – Isometric Process
An isochoric process is a thermodynamic process, in which the volume of the closed system remains constant (V = const). It describes the behavior of gas inside the container, that cannot be deformed. Since the volume remains constant, the heat transfer into or out of the system does not the p∆V work, but only changes the internal energy (the temperature) of the system.
In engineering of internal combustion engines, isochoric processes are very important for their thermodynamic cycles (Otto and Diesel cycle), therefore the study of this process is crucial for automotive engineering.
Example of Isochoric Process – Isochoric Heat Addition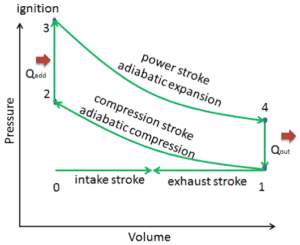 Let assume the Otto Cycle, which is the one of most common thermodynamic cycles that can be found in automobile engines. This cycle assumes that the heat addition occurs instantaneously (between 2 → 3) while the piston is at top dead center. This process is considered to be isochoric.
Processes 2 → 3 and 4 → 1 are isochoric processes, in which the heat is transferred into the system between 2 → 3 and out of the system between 4 → 1. During these processes no work is done on the system or extracted from the system. The isochoric process 2 → 3 is intended to represent the ignition of the fuel–air mixture and the subsequent rapid burning.
We hope, this article, Example of Isochoric Process – Isochoric Heat Addition, helps you. If so, give us a like in the sidebar. Main purpose of this website is to help the public to learn some interesting and important information about thermal engineering.