The thermal power plants are currently designed to operate on the supercritical Rankine cycle. Supercritical Rankine cycle is also the thermodynamic cycle of supercritical water reactors. Thermal Engineering
Thermal Efficiency Improvement – Rankine Cycle
There are several methods, how can be the thermal efficiency of the Rankine cycle improved. Assuming that the maximum temperature is limited by the pressure inside the reactor pressure vessel, these methods are:
Supercritical Rankine Cycle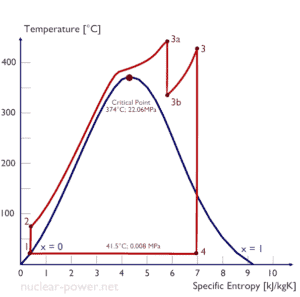 As was discussed the thermal efficiency can be improved "simply" by an increase in the temperature of the steam entering the turbine. But this temperature is restricted by metallurgical limitations imposed by the materials and design of the reactor pressure vessel and primary piping. The reactor vessel and the primary piping must withstand high pressures and great stresses at elevated temperatures. But currently, improved materials and methods of fabrication have permitted significant increases in the maximum pressures, with corresponding increases in thermal efficiency. The thermal power plants are currently designed to operate on the supercritical Rankine cycle (i.e. with steam pressures exceeding the critical pressure of water 22.1 MPa, and turbine inlet temperatures exceeding 600 °C). Supercritical fossil fuel power plants, that are operated at supercritical pressure,  have efficiencies around 43%. Most efficient and also very complex coal-fired power plants that are operated at "ultra critical" pressures (i.e. around 30 MPa) and use multiple stage reheat reach about 48% efficiency.
Supercritical Water Reactor – SCWR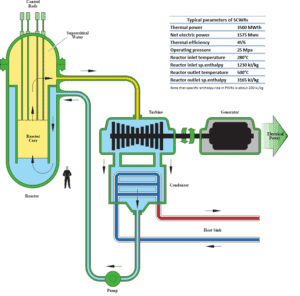 Supercritical Rankine cycle is also the thermodynamic cycle of supercritical water reactors. The supercritical water reactor (SCWR) is a concept of Generation IV reactor, that is operated at supercritical pressure (i.e. greater than 22.1 MPa). The term supercritical in this context refers to the thermodynamic critical point of water (TCR = 374 °C;  pCR = 22.1 MPa), and must not be confused with the criticality of the reactor core, that describes changes in the neutron population in the reactor core.
For SCWRs a once through steam cycle has been envisaged, omitting any coolant recirculation inside the reactor. It is similar as in boiling water reactors, steam will be supplied directly to the steam turbine and the feed water from the steam cycle will be supplied back to the core.
As well as the supercritical water reactor may use light water or heavy water as neutron moderator. As can be seen, there are many SCWR designs, but all SCWRs have a key feature, that is the use of water beyond the thermodynamic critical point as primary coolant. Since this feature allows to increase the peak temperature, the supercritical water reactors are considered a promising advancement for nuclear power plants because of its high thermal efficiency (~45 % vs. ~33 % for current LWRs).
We hope, this article, Supercritical Rankine Cycle, helps you. If so, give us a like in the sidebar. Main purpose of this website is to help the public to learn some interesting and important information about thermal engineering.