Heat Losses through Clothing. The purpose of clothing is similar.. The insulating properties of clothing come from the insulating properties of air. Thermal Engineering
Heat Losses – Clothing
The purpose of clothing is similar. The insulating properties of clothing come from the insulating properties of air. Gases possess poor thermal conduction properties compared to liquids and solids, and thus makes a good insulation material if they can be trapped (e.g. in a foam-like structure). Air and other gases are generally good insulators. But the main benefit is in the absence of convection. Without clothes, our bodies in still air would heat the air in direct contact with the skin and would soon become reasonably comfortable because air is a very good insulator. It must be added, also in this case air will be flowing due to natural convection. In natural convection, air surrounding a body receives heat and by thermal expansion becomes less dense and rises. Thermal expansion of air plays a crucial role. In other words, heavier (more dense) components will fall, while lighter (less dense) components rise, leading to bulk air movement.
In the wind, the warm air surrounding our body would be replaced by cold air, thus increasing the temperature difference and the heat loss from the body. Clothes constitute a barrier to this moving air. The main benefit is in the absence of large-scale convection. Moreover, clothes are made from materials, which are generally good insulators. Many insulating materials (e.g. wool) function simply by having a large number of gas-filled pockets which significantly decrease material's thermal conductivity. Alternation of gas pocket and solid material causes that the heat must be transferred through many interfaces causing rapid decrease in heat transfer coefficient.
Heat Losses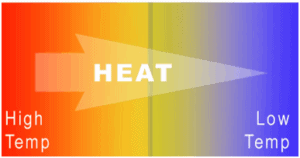 While thermal energy refers to the total energy of all the molecules within the object, heat is the amount of energy flowing from one body to another spontaneously due to their temperature difference. Heat is a form of energy, but it is energy in transit. Heat is not a property of a system. However, the transfer of energy as heat occurs at the molecular level as a result of a temperature difference. When a temperature difference does exist heat flows spontaneously from the warmer system to the colder system, never the reverse. This direction of thermodynamic processes is given by the second law of thermodynamics.
As a result, any object hotter than the surroundings must continuously lose a part of its thermal energy. This is a natural behaviour of all objects. When the flow of heat stops, they are said to be at the same temperature. They are then said to be in thermal equilibrium. Heat losses from hotter objects occur by three mechanisms (either individually or in combination):
Heat Conduction. Heat conduction, also called diffusion, occurs within a body or between two bodies in contact. It is the direct microscopic exchange of kinetic energy of particles through the boundary between two systems. When an object is at a different temperature from another body or its surroundings
Heat Convection. Heat convection depends on motion of mass from one region of space to another. Heat convection occurs when bulk flow of a fluid (gas or liquid) carries heat along with the flow of matter in the fluid.
Thermal Radiation. Radiation is heat transfer by electromagnetic radiation, such as sunshine, with no need for matter to be present in the space between bodies.
We hope, this article, Heat Loss through Clothing, helps you. If so, give us a like in the sidebar. Main purpose of this website is to help the public to learn some interesting and important information about thermal engineering.